Chronic disease management is a rapidly growing area in Australia and in general practice.
The main vehicle to provide chronic disease care is what is know as care plans or GP Management Plans (GPMPs) and Team Care Arrangements (TCAs).
These items, when used correctly, have the potential to drastically improve the care and quality of life of patients with chronic conditions.
These plans also attract much higher Medicare rebates, even when bulk billed, which is why many practices have become increasingly more engaged in performing these services, which help the practice be more financially viable.
What are GP Management Plans (GPMPs)?
GP Management Plans provide funding for General Practice to create a plan to manage the care of a patient with a chronic condition.
A GPMP should include:
• A discussion with the patient around their health needs or any current health problems
• Setting health goals or targets for treatment
• Outlining what services will be provided by the practice or by other external providers
• Outlining the responsibilities or 'actions' the patient agrees to take to help reach their health goals
• Setting a date of review to get together again and track changes or progress towards their goals
What are Team Care Arrangements (TCAs)?
Team Care Arrangements are used for patients who have a chronic condition and needs which are so complex that there is the need for a 'multidisciplinary team'. This refers to a range of different providers from different health disciplines, usually involving 2 or more providers in addition to the usual GP, with one or more of these providers usually being an Allied Health clinician.
The Medicare and 'audit' requirements around these items can be complex. We've put together a set of training courses to help demystify them and to allow you to easily navigate your way around them.
Navigating Chronic Disease Medicare items: MBS online
Information on individual Chronic Disease Management Medicare items can be found via MBS Online.
Random audits are carried out on a regular basis to make sure providers are claiming items correctly and following all item requirements before billing.
Medicare Reference wall chart 
Here is a convenient wall chart outlining the chronic disease management items along with some of the most common Medicare items we use in General Practice, including requirements, restrictions and claiming frequency.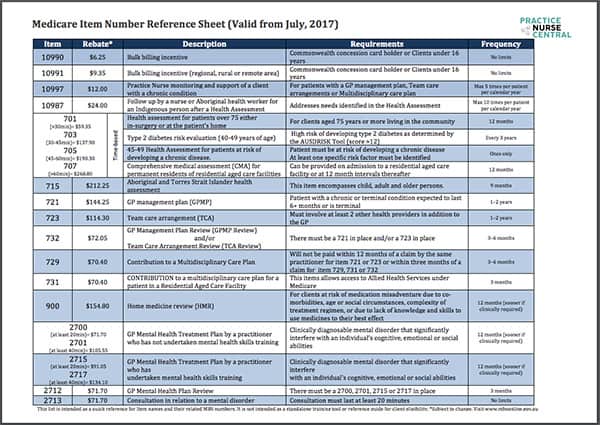 Getting clarification around Medicare requirements
If you have questions about a Medicare item and it's not clear from the explanatory notes what you would need to do to fulfil its requirements, you can contact Medicare either via phone using the Medicare Provider line 132 150 or by sending an email to askmbs@humanservices.gov.au
It can take a couple of weeks to receive a reply via email, but this is a more official and binding interpretation, whereas over the phone you will often get different 'interpretations' by different Medicare staff, which may or may not be defendable if you were to incorrectly claim an item.
Key Resources