Medicare items are an inevitable part of everyday life in general practice. From standard consultations for routine issues to the more complex items for things like Health Assessments and GP Management Plans for patients with chronic conditions, it's important to understand how these items work and what's required or expected of practitioners and clinics putting through Medicare Benefit Schedule or 'MBS' claims.
How Medicare claims work
Most services and procedures we offer in General Practice have an associated Medicare item number, which signals to Medicare what service was provided, and in turn, what fee or 'rebate' that service attracts. 
Some common items include:
23: Standard (or 'Level B') GP Consultation lasting up to 20 minutes
36: Long (or 'Level C') GP Consultation lasting between 20 to 40 minutes
10990: Additional incentive for fully bulk bilked services provided to a person under 16 years of age or who has a concession card.
721: Creation of a GP Management Plan for a patient with a chronic condition
The full list of Medicare item numbers is truly overwhelming, because it covers services across multiple sectors including General Practice, Hospital services, pathology services and even specialist services among many others. 
You will find courses on this website will cover the most relevant items in detail within the relevant topics, such as Health assessments and Chronic Disease Items.
What does 'Bulk Billing' mean?
When we talk about "Bulk Billing" we're referring to a service claim that is sent directly to Medicare and which the patient did not have to pay anything for. This is because the entire fee for the service is what Medicare pays.. this is also know as the Medicare 'rebate.' 
What is Private Billing?
Private billing is when the cost of the service, say for example a GP consultation, is more than what Medicare covers. 
In this instance, the patient will usually pay the full amount and then put a claim through to Medicare, either in person or more commonly online. This allows them to get back from Medicare the amount or 'fee' that Medicare covers for that particular service.
What is a 'gap' payment?
A gap payment, also know as an 'out of pocket' cost, is the difference between the Medicare fee, or what the patient will get back from Medicare once the claim goes through, and what they actually paid for the service. For example, if a privately billed GP consultation was $75, but the Medicare rebate for that service was only $35, then the patient will get $35 from Medicare and will be 'out of pocket' by $40. So the 'gap' or out of pocket cost would be $40.
Navigating Medicare items: MBS online
You can find individual Medicare items or access the full list of item numbers and requirements by visiting MBS Online.
Using MBS online you can search for item numbers either by using words to describe the service, or if you know the specific item number, by typing the number into the search function and performing an item number search.
Search results will usually include a brief description of the item, the Medicare rebate or fee, and will usually have a link for additional information under the 'Explanatory notes' area.
There is an expectation that any provider claiming an item under their provider number (which is the unique identifier which allows clinicians to bill things to Medicare) will be familiar with the requirements of that item number and will only claim it if they have met all of its criteria.
Random audits are carried out on a regular basis to make sure providers are claiming items correctly and following all item requirements before billing.
Medicare Reference wall chart
Here is a convenient wall chart with some of the most common Medicare items we use in General Practice, including basic requirements, limitation and how frequently each one can be claimed.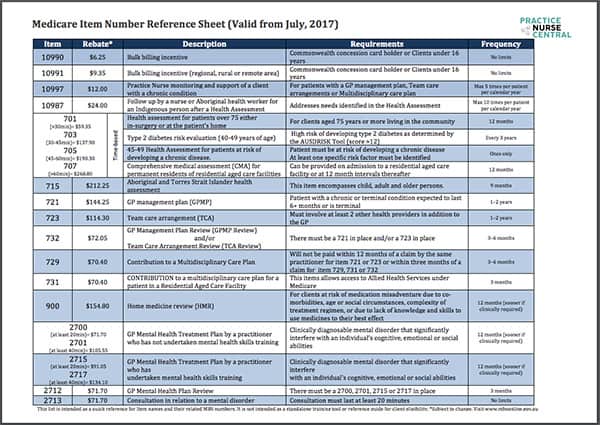 Getting clarification around Medicare requirements
If you have questions about a Medicare item and it's not clear from the explanatory notes what you would need to do to fulfil its requirements, you can contact Medicare either via phone using the Medicare Provider line 132 150 or by sending an email to askmbs@health.gov.au
It can take a couple of weeks to receive a reply via email, but this is a more official and binding interpretation, whereas over the phone you will often get different 'interpretations' by different Medicare staff, which may or may not be defendable if you were to incorrectly claim an item.
Key Resources