Get the scoop on the food-mood connection with the latest free e-Report
Update your nutrition knowledge with Scoop on Breakfast, Issue 3. Watch our exclusive expert interview on how diet quality impacts on our mental health, read about the latest breakfast research, and be inspired by simple and tasty new breakfast recipes that could contribute to you and your patient's happiness.
Click here to read the third issue, or explore the separate sections below:
Watch our exclusive interview with Professor Felice Jacka from Deakin University's Food & Mood Centre, who recently spoke to us about the latest research on the key role diet plays in mental health.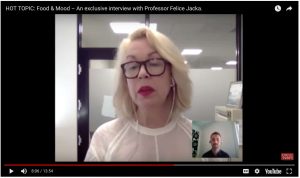 Learn more about the link between breakfast cereal consumption and obesity risk in Australian women from this new Australian study.
Try a new twist on breakfast with The Gourmet Pommies Will & Steve's delicious creations.
Continue to enjoy the goodness of oats this Spring with these delicious oats recipes, including Superfood Energy Balls, Apricot Chia Balls and an Oaty Banana Bread.
Get the latest on breakfast nutrition research and practical patient tips in your inbox